"Tig" by Sunni Mercer
Now Available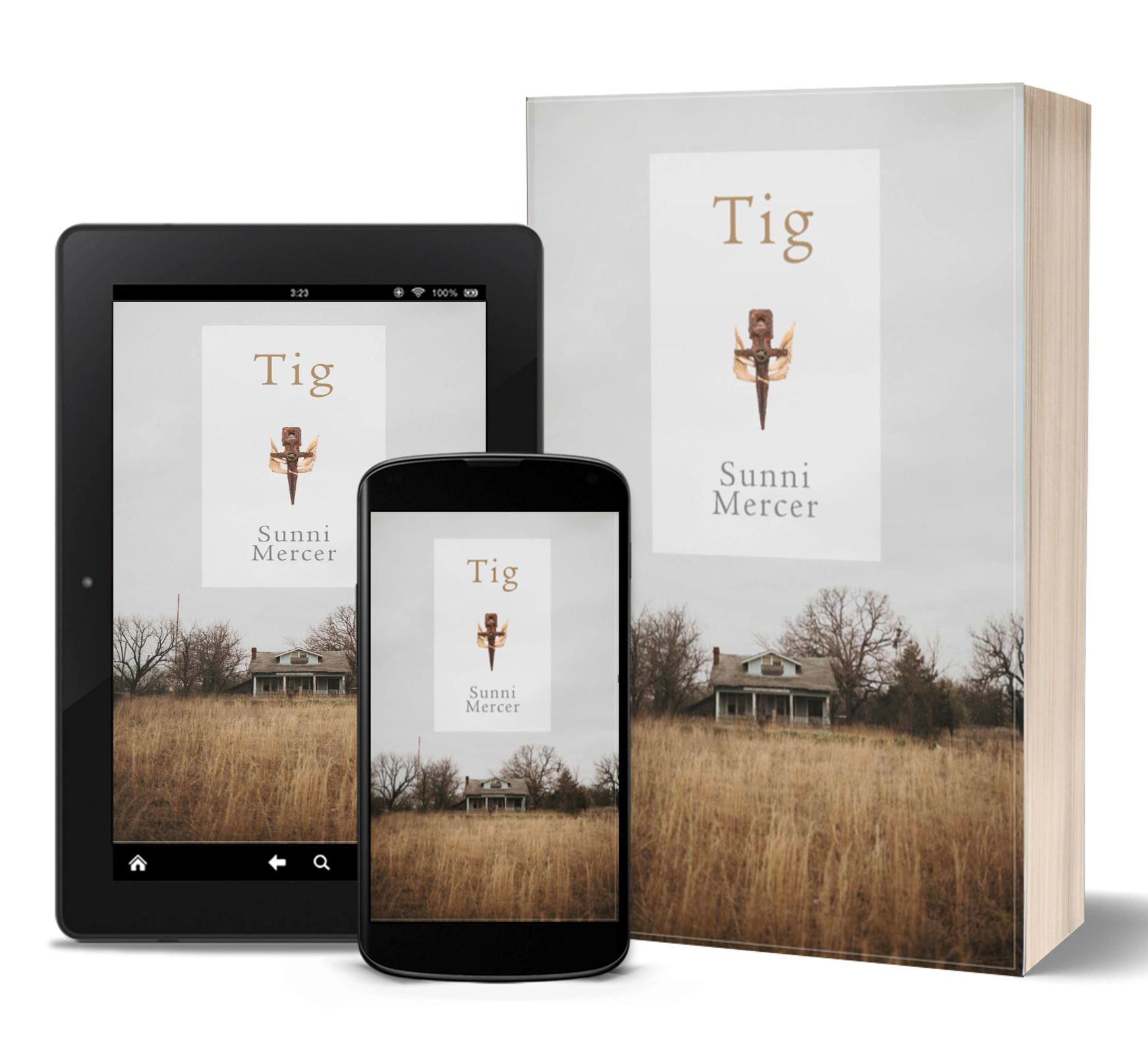 When Tig is dumped off at a derelict hovel in northwest Oklahoma, he is forced to reconcile with his indigence and his past.
In spite of his physical disabilities and debilitating anxiety attacks, Tig finds asylum and beauty amidst the feral and unforgiving terrain.  Solitude and contemplation lead Tig to realize the poverty of his spirit, and his need for absolution. Throughout his struggle to survive, the unlikely generosity of a small ranch community provides for his physical needs and bolsters his broken spirit.  Overtime, Tig methodically learns to trust again.  Ultimately through tragedy, Tig discovers the resilience of his inner sanctuary, the power of relationships and the endurance of love.
 Praise for "Tig"
"Mercer has set the story well within the framework of Oklahoma history— reflective and relevant.  The quality of the writing brings the history to life, and Mercer's descriptive ability transports us to the land.  The robust characters in TIG are startling mirrors of the land they inhabit.  They are weathered, tenacious and resourceful.  In this compelling story, TIG reminds us of the power of community.  Its potential to become a healing force regardless of the circumstances.  TIG challenges us to consider our faith, heritage, and relationships." -Dr. Bob Blackburn, Historian
"Is redemption possible? And if so, how does it happen? In this compelling story of Tig's joys and tragedies, we are invited to imagine the ways of persistent, unassuming love brings wholeness and healing. It's a story that rings with the beauty of truth, and invites us to ponder the way redemption comes to all of us."   – Rev. Michaele LaVigne, Pastor and Author of Living the Way of Jesus
"Tig is a superb read.  Mercer takes us on a captivating journey through the life of a disabled man–a derelict.  Mercer's descriptive style will transport you to the land of red earth. You'll taste the dirt." -Joe Thomas, Executive Officer, Department of Culture and Humanities Literary Arts Division, the Chickasaw Nation
"Sunni Mercer paints Tig's journey in a way that portrays the journey of many of us.  Seemingly marginalized and alone, Tig recovers hope from community.  Whatever our disability or ability, we all need the support and strength provided by others and Sunni helps us find it through her artistic prose that warmly breathes hope into us."  -Jim Priest, author and CEO of Goodwill lndustries of Central Oklahoma.
"A vast and visual tribute to the beautiful, brittle, high prairies and those who commit to finding the meaning of home there, this geographically researched novel deeply engages with its' intertwining characters. Author Sunni Mercer shows deep reverence for the texture of place, and for the flow and ruptures of time and memory on those whose faith is challenged. TIG allows the reader to serve as a witness to the most intimate of human tragedies and to full participation in life." -Melinda Levin, Professor and documentary film director, University of North Texas
"Sunni Mercer takes the reader deep into the life-fabric of the community of the fictional town of Arvita, Oklahoma. The author's skill for description through the use of color, texture, landscape, and human experience is remarkable, and it adds to the reader's experience of the time, place, and people. Mercer conveys the feelings, situations, and relationships that carry the story of Tig to its conclusion.  TIG tells a beautiful, tragic story of a man overcoming his situation through a quest for the sacred among the mundane." -Rev. Dr. Tommy Goode, DMin, Founding Director, Moral Injury Institute, Springfield, Missouri
Sunni Mercer holds an MFA in painting and sculpture.  She has taught Art History and has written for museum exhibits.  Sunni is an NEA Regional Fellow whose art has been exhibited in galleries and museums in the U.S. and abroad. Her work has been the subject of dozens of articles in a variety of national publications.  As an assemblage sculptor, Sunni uses language as a source of inspiration to create what has been referred to as sight poetry.  Now, Sunni has chosen to use her art as the impetus for her stories.  As a skilled story-teller, Sunni offers us works of fiction–assemblages of provocative characters facing unique challenges. Visually satiating, Mercer's writing draws attention to the details from an artist's perspective.